Type : VRS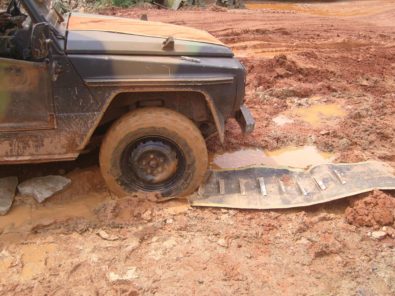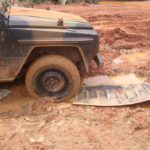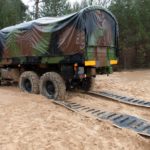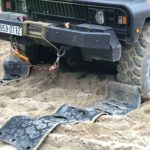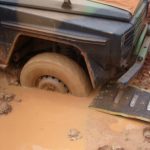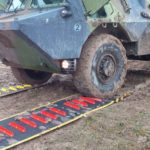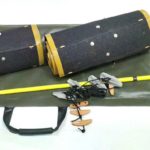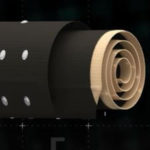 PRODUCTS
Traction mat – recovery tracks
Why use traction mat ?
Mustmove® VRS traction mat get vehicles out of sand or mud thanks to their innovative design* and non-slip surface. They are flexible recovery tracks made from high-strength textile materials coated with a specific polymer.
The thin part slips easily into the rut, the wider part allows the wheel to be released. The upper part is equipped with studs and devices that improve the grip of the wheels to prevent slipping.
Easy to install and remove after use, these recovery traction board are also very resistant, repairable, impervious to mud and sand, compact, light and easy to clean. They can therefore be reused immediately when needed. They have proven their effectiveness: in the majority of cases listed, vehicles are rescued in less than 15 minutes. Traction mats have been successfully evaluated by the STAT (French Army Technical Section) and have been acquired by many armies, including the French Army.
Our recovery tracks offer an exceptional result and a multiple use especially in cases of use with military vehicles over 3.5 Tons.
*Patent registered
Use case for off recovery tracks
4×4 Desensablement
De-sliding of heavy trucks in External Operations (OPEX)
Technical characteristics of roll-up traction mat
We manufacture Mustmove® VRS roll-up  traction mat from a reinforced technical textile coated with a specific polymer.  A kit consists of two flexible recovery mats and an innovative set of anchors*. These consist of an aluminum anchor piece, a flexible link made of high-tenacity textile, and a device for arming and locking the anchors. This allows quick and easy installation of the anchors, as well as a total absence of danger for the wheels in case of rolling on the anchors, unlike metal stakes. Anchor installation and retrieval can be done in less than a minute.
Non-contractual data for information purposes
Ref
Application
Total weight
Composition
Roll up sizes
VRS M                          
 < 3,5 T Vehicules

<6600 lbs

9 kg

20 lbs

 2 VRS traction mat :

1500 x 375 mm

4.9′ x 1.2′

(4kg-9lbs) each

 1 stake for anchors

 2 anchors

VRS M mat

Ø 200 x 375 mm

Ø7.8′ x 1.2′

VRS L
≤12 T Vehicules

≤ 26500 lbs

15 kg

33 lbs

 2 VRS traction mats:

1950 x 500mm

6.3′ x 1.6′

(6kg-13 lbs) each

 1 stake for anchors

 2 anchors

VRS L mat

Ø 250 x 500 mm

Ø 9.8′ x 1.6′

VRS XL
> 12 T Vehicules

> 26500 lbs

35 kg

77 lbs

 2 VRS HV traction mats :

2450 x 750mm

8′ x 2.4′

(17kg-37 lbs) each

 1 stake for anchors

 4 anchors

VRS XL mat

Ø 350 x 750 mm

Ø 13.7 ' x 2.4'

Advantages
Very compact rolled up
Impermeable to mud and sand
Non-slip surface
Easy to clean and remove
Puncture resistant
Repairable
Long service life
Custom made to order
FRENCH DESIGN AND MANUFACTURING
CONTACT
You want

contact us ?
You have a project or a problem to solve ? Fill out our contact form to send us your request. Our team of experts will get back to you as soon as possible.