Type : QS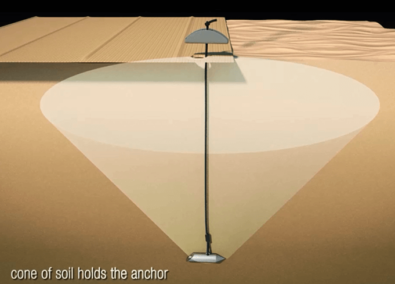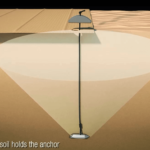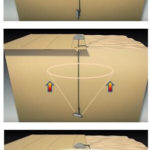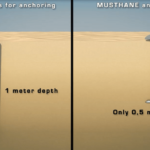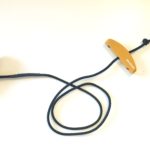 PRODUCTS
Anchor release system
Why use secure anchor release system for mat?
The QS fastening anchor release system for mat is an innovative and patented product for secure and fast anchoring in soft ground. It offers an exceptional result in sand. It is used to anchor our helicopter landing mats, temporary roads mats, traction board …
Its main advantage over other "similar" types of anchors is that it is possible to adjust its tension after installation. It is also possible to recover it for reuse.
Our ground anchoring release system for mat consists of :
an aluminum anchor piece whose profile has been designed and tested to suit a wide variety of soils (sand, clay, laterite…),
a flexible link in high tenacity technical textile,
a traction and locking device
an implementation rod.
Our specific anchoring profile is an important element, guaranteeing the safety of our anchoring system. It has been designed to ensure ease of installation thanks to a simple steel rod. Its deposited shape is designed to easily penetrate sandy or earthy ground.
On the other hand, its material, aluminium, gives it lightness and important resistance.
The flexible link is a technical textile which allows an adjustable anchoring at the desired depth. This soft link has a superior resistance of 500daN. This technical textile ensures great flexibility of use (and reuse) and a longer life than steel ties. Finally, this textile link prevents possible galvanic corrosion in case of long term installation of the Helipad.
The unique traction and locking device is done by a simple manual operation and operates regardless of the chosen anchoring depth. The operator only needs one movement, without any tools, to unlock the system to reposition it or to re-tension it if necessary.
Each anchoring system can retain a thrust of 500 kg to 3000 kg depending on the model.
The other major advantage of the system is its reusability. Simply use our simple tooling to retrieve the anchors and reuse them later. This operation is easy to implement and takes only a few minutes.
These undeniable advantages make it a remarkable asset. The anchoring system is reliable and safe for helipads, unlike piles that have proven their limitations both logistically (20 times greater mass and volume) and safely (low tensile strength) or the anchoring systems designed for viticultural or agricultural operations.
Implementation
Position the post in the hole provided for this purpose in the anchor.
Use a hammer to drive the anchor down to the red limit indicated.
Remove the thin stake and use the traction device to pull the rope until the anchor is set in the ground.
Bring the traction device into contact with the mobile Helipad. Place the rope in the groove of the pulling device and secure the rope.
How does it work?
To arm the anchor, a force must be applied to allow the anchor to tilt in the ground.
To arm the anchor, a force must be exerted that allows the anchor to tilt in the ground.
The anchor creates a cone that collapses once a vertical force is applied.
The stress cone locks the anchor in the ground. The maximum load that can be retained by the device depends on the soil and the size of the anchor.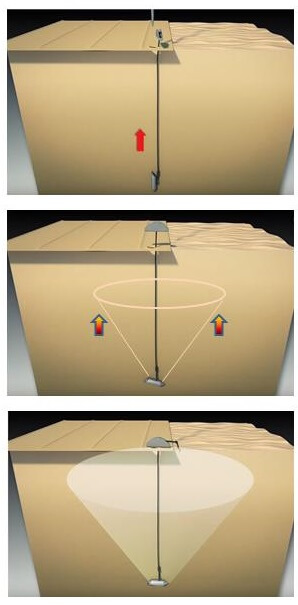 Use case for anchors release sytem for mat
It is recommended to anchor our :
Technical characteristics of our anchor release system for mat
Anchor: it measures approximately 75 x 25 mm in Aluminum.
Soft link: made of synthetic fiber with mechanical strength from 500 daN (500 kg) for helicopter landing pads
Pull & Lock Device: made of aluminum, this device allows first to rotate the anchor. Then it allows to adjust the length of the flexible link and to keep it under tension during use.
Advantages
Light: Each anchor weighs from 200 gr.
Compact: 100 standard QS anchors for Helipads are supplied in a 45 x 75 cm bag (total weight 20 kg).
Fast: at a depth of only 0.5 meters, the same performance is obtained as a 1 meter post*. Anchor installation and retrieval can be done in less than a minute.
Reliable: Once installed, our QS anchor can only be removed using special tools or by digging.
Adjustable: The height of the anchor adapts to the type of soil, unlike metal stakes.
Reusable: The complete anchoring system can be recovered and reused many times.
For special operations, the discreet textile bond can be easily cut or hidden so as not to leave any visible trace on the surface.
FRENCH DESIGN AND MANUFACTURING
CONTACT
You want

contact us ?
You have a project or a problem to solve ? Fill out our contact form to send us your request. Our team of experts will get back to you as soon as possible.