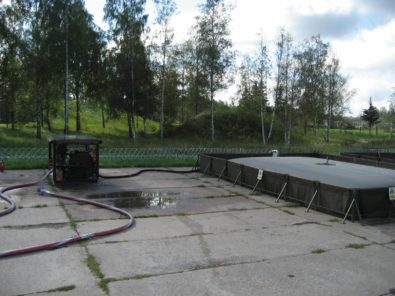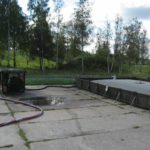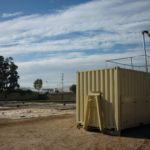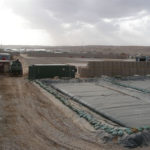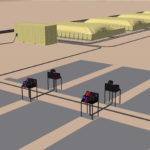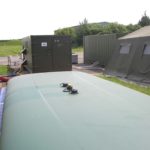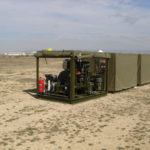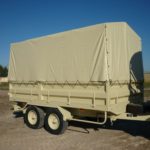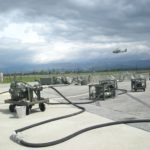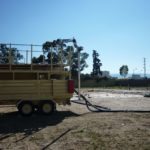 PRODUCTS
Aviation fuel farm
Why use aviation fuel farm 100 m3 (tff 100) ?
The TFF100 Aviation fuel farm aims at depot, store and distribute diesel or kerosene (jet A1, JP8…) in an autonomous way, on any geographical area even the most hostile in a short time and with easy logistics (transport by container). It is therefore a mobile and agile fuel depot with a capacity of 100.000 liters.
The TFF100 is integrated on a transport trailer towed by tactical trucks. It has all the accessories and tools necessary for its deployment: fuel bladders for a storage capacity of 100m3, motor pump and filtration unit.
Use cases of aviation fuel farm
Have a distribution and storage center for aviation or vehicle fuel in a remote area.
Technical characteristics of tactical fuel farm
All the equipment of the tactical depot is installed on an all-terrain trailer which includes :
Motor pump unit, mechanical counter, loading arm and hoses for loading and unloading fuel
Positive displacement pump with a flow rate of 1000L/min (60m3/h).
Flexible fuel storage tanks (4) of 25m3 made of rubber coated reinforced fabric approved according to American military standards or French standards (DCSEA, Operational Energy Service of the French Ministry of the Armed Forces)
Connections between the pumping part and the flexible tanks,
Accessories: handling hoist, tools…
Advantages
Trailer-mounted mobile aviation and off-road fuel storage and distribution center
Modular storage center that can connect to other trailers or mobile flexible fuel tanks
Trailer approved for road use
Customized solutions with different storage capacities or flow rates are possible.
FRENCH DESIGN AND MANUFACTURING
CONTACT
You want

contact us ?
You have a project or a problem to solve ? Fill out our contact form to send us your request. Our team of experts will get back to you as soon as possible.