Type : HC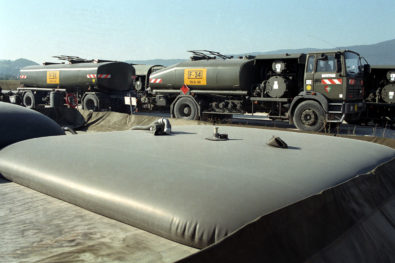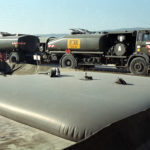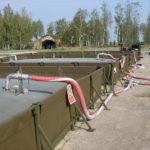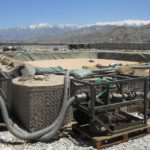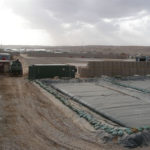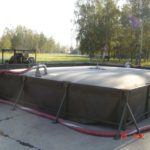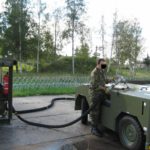 Why use fuel bladders – flexible fuel tank ?
Hydrocarbon HC fuel bladders offer a storage solution:
simple,
nomad
fuel efficiency.
Flexible fuel tank provides optimum protection for stored products. They have a shape of berlingot. The collapsible fuel tank is easy to transport and install thanks to their compactness and lightness.
Indeed, by their design, the stored products are not in contact with air since the wall of the fuel bladder always sticks to the liquid contained. This prevents any evaporation and avoids the risk of explosion due to the formation of gas. Finally, to avoid contamination of the fuel contained in certain applications, an inert barrier film is placed inside the flexible fuel.
The HC fuel bladders provide storage for the :
diesel,
jet fuel,
gasoline,
chemical products…
They are used in the agri-food, humanitarian, military, industrial, public works, etc. sectors.
Case of use of fuel bladders
Storage of fuel for public works and itinerant construction sites
Fuel storage on a life basis
Technical characteristics of fuel bladders
We manufacture collapsible fuel bladders in elastomer-coated fabric. We vulcanize them in one operation ("seamless" process) in a homogeneous way. The textile support provides mechanical resistance. The coating and the manufacturing technique provide the chemical properties and the watertightness. The choice of material depends on the liquid stored in order to guarantee the conservation of the chemical or biological aspects of the liquid.
Accessories :
Elbowed filling/emptying base equipped with a 1/4 turn valve and a symmetrical DN50 guillemin coupling ½ in aluminium (two from 30 m3).
Subbase equipped with a degassing valve.
a repair kit.
Musthane makes flexible fuel bladders to measure according to your specifications.
We recommend that you read the precautions for use before using flexible tanks
Advantages of fuel bladder
Simple and quick installation
Compact (foldable to less than 5% of the total volume)
High resistance to weather conditions
No condensation and contamination of the contents
No evaporation of the stored liquid
Protection of the stored product.
Safety of use
custom manufacturing
FRENCH DESIGN AND MANUFACTURING
CONTACT
You want

contact us ?
You have a project or a problem to solve ? Fill out our contact form to send us your request. Our team of experts will get back to you as soon as possible.