Musthane delivers a full package for Aircraft ground support equipment :
Equipment for Lifting the Aircraft
Equipment for Moving the Aircraft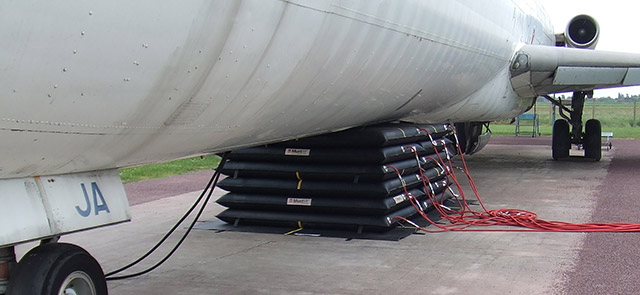 Our lifting bags MARS covers a wide range of aircrafts in compliance with international standards and ARM.
The design of the MARS lifying bags ensures an easy and safe lifting operation.
The unique manufacturing technology of our bags give them a long life expectancy and reliability. We identify each cushion by a number and protect them with an overpressure valve.
We propose also fuselage Sling suitable for narrow bodied aircraft as well as wide bodied aircraft (B-737, A320, B-747, A340, A380 etc)
For moving the aircraft, we have patented an aircraft recovery mat made of heavy duty rubber coated fabrics reinforced with composite.
This temporary access road have an:
excellent ground bearing capacity,
resistance to perforation,
resistant to all commercial and military aircraft fuels,
Moreover, they rollable and light weight (approx. 10 kg/m²).
Our engineering team is at your disposal for the design of your aircraft ground support equipment.