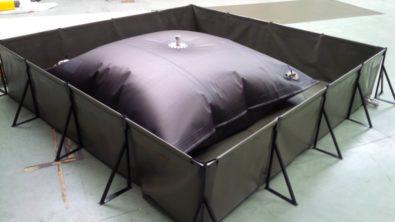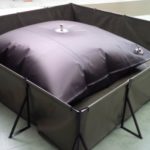 PRODUCTS
Transformer oil storage tank
Why use transformer oil storage tank?
MSBT transformer oil storage tank is used for transformer maintenance or as a buffer storage for mineral oil.
It has multiple advantages:
their compactness when empty (it bends) is an asset for their storage and transport;
their lightness is an asset for their installation;
and finally their design is a major asset for storage conditions.
Indeed, the wall of a flexible oil storage tank always remains in contact with the stored product, thus preventing the presence of air and the development of micro-organisms and oil contamination, unlike metal tanks. The other advantage is the absence of condensation or particles such as rust from metal debris which can also pollute the oil.
The oil is drained using a motor pump unit.
Use of transformer transformer oil storage tank
Emptying a transformer to change a valve
Temporary storage of oil for cleaning.
Technical characteristics of transformer oil storage tank
The transformer oil storage tank of are made of rubber coated reinforced textile. The materials are chosen according to the oil stored in order to ensure its conservation.
They are assembled by vulcanization in a homogeneous way in one operation.
Accessories:
Elbowed filling/emptying base equipped with a 1/4 turn valve and a symmetrical ½ symmetrical guillotine coupling DN50 in aluminium (two from 30 m3).
Subbase equipped with a degassing valve.
We recommend that you read the precautions for use before using flexible tanks
 REFERENCE
CAPACITY
FLAT DIMENSIONS
VOLUME
WEIGHT
 
litres
length
width
folded
kg
mètres
mètres
m3
 MSS1000T
1000
2,50
1,40
0,14
16
 MSS5000T
5000
3,50
2,80
0,24
34
 MSS10000T
10000
4,00
4,20
0,40
55
 MSS20000T
20000
6,80
4,20
0,50
91
 MSS40000T
40000
8,30
5,65
0,90
146
 MSS50000T
50000
8,60
6,80
1,10
171
 MSS100000T
100000
16,20
6,80
1,70
286
 MSS200000T
200000
17.60
10.65
2.61
400
 MSS300000T
300000
19.50
12.78
3.78
571
Non-contractual data for information purposes
Musthane is able to make transformer oil storage closed up tanks for electrical transformers according to your specifications.
Advantages
Simple and quick to use
Compact (foldable to 5% of the total volume)
High resistance to weather conditions
Resistant to tearing, abrasion, UV rays, etc.
Better protection of the stored product
Better safety of use
Made to measure manufacturing
FRENCH DESIGN AND MANUFACTURING
CONTACT
You want

contact us ?
You have a project or a problem to solve ? Fill out our contact form to send us your request. Our team of experts will get back to you as soon as possible.