Type : MGR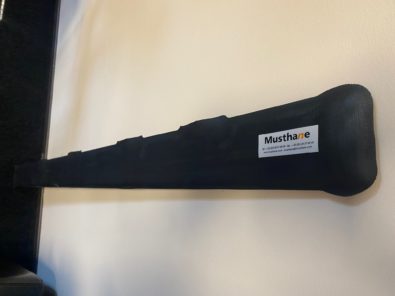 PRODUCTS
Pneumatic gripper tube MGR long neck
Why use an MGR pneumatic gripper?
The MGR pneumatic gripper tube is an inflatable cylinder that ensures the palletization of long neck bottles. It can be used for all bottle capacities. It is mounted on a bottle gripping head. When empty, the pneumatic palletizers are flat; they slide between the bottle necks, then they are inflated with compressed air which ensures the gripping of all the bottles in complete safety.
Cases of use of grippers for long neck bottles
Palletizing of bottles for bottle manufacturers
Palletizing/depalletizing of bottles for bottlers, decorators, recyclers
Technical characteristics of the inflatable grippers
Inflatable MGR grippers tubes are made of rubber-coated fabric. The fabric provides the mechanical resistance to our pneumatic cylinders. The choice of rubber gives it its resistance to abrasion. This complex ensures a long life for our pneumatic cylinders. Its frame provides the rigidity necessary for inflation (no banana effect).
The pneumatic grippers are equipped with threaded rods to ensure their mounting on your gripping head. They have a supply nozzle to ensure their inflation with compressed air.
Our range of MGR pneumatic grippers for Europe pallets:
Diameter of 28mm and finished at 93mm.
Length of 1340mm
3 fixing points M10 x 70mm
300mm supply hose
Our range of MGR pneumatic grippers for Anglo-Saxon pallets:
28mm diameter and finished at 93mm.
Length of 1470mm
3 fixing points M10 x 70mm
300mm supply hose
Our pneumatic gripper tube MGR accepts a maximum inflation pressure of 1.2 bar.
mm
Ø Deflated
(+4/-1)
Height without fitting (+/-5)
Length
(+/- 10)
MGR28
28
60
1330
MGR33
33
68
1330
MGR38
38
76
1330
MGR48
48
93
1330
MGR58
58
109
1330
MGR68
68
123
1330
MGR80
80
139
1330
MGR88
88
152
1330
MGR93
93
162
1330
MGR110
110
183
1330
Advantages of pneumatic grippers
Fast set up
Low thickness when empty
Abrasion resistant
FRENCH DESIGN AND MANUFACTURING
CONTACT
You want

contact us ?
You have a project or a problem to solve ? Fill out our contact form to send us your request. Our team of experts will get back to you as soon as possible.