Type : MGD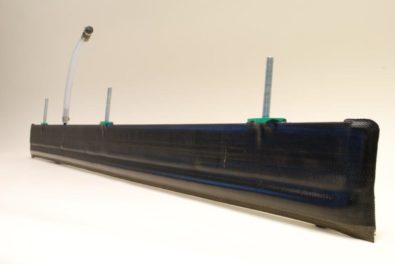 PRODUCTS
MGD pneumatic gripper
Why use an MGD pneumatic gripper?
The MGD pneumatic gripper is an inflatable cylinder that ensures the palletization of bottles with short necks and little shoulders. It is mounted on a bottle gripping head. When empty, the pneumatic palletizers have a flat shape; they slide between the bottle necks, then they are inflated with compressed air which ensures the gripping of all the bottles in complete safety.
Their particularity is that only the lower part of the gripper is inflated in order to be able to handle bottles with short necks; the very low thickness of the gripper
Applications for pneumatic grippers
Palletizing of bottles for bottle manufacturers
Palletizing/depalletizing of bottles for bottlers, decorators, recyclers
Technical characteristics of MGD pneumatic palletizers
Inflatable palletizers are made of rubber-coated fabric. The fabric provides the mechanical resistance to our pneumatic cylinders. The choice of rubber gives it its resistance to abrasion: thick rubber with an anti-slip aspect. Its frame provides the necessary rigidity for inflation (no banana effect).
The pneumatic gripper cylinders are equipped with threaded rods to ensure their mounting on your gripper head. They have a supply nozzle to ensure their inflation with compressed air.
We have developed a quick release system that optimizes gripper changeover times.
Our range of standard MGD PNEUmatic grippers for Europe pallets:
Diameter of 29mm and finished at 93mm.
Length of 1340mm
3 point M10 x 70mm attachment
300mm supply hose
Our range of inflatable palletizers for Anglo-Saxon pallets:
29mm diameter and finished at 93mm.
Length of 1470mm
3 point fixing M10 x 70mm
300mm supply hose
Our inflatable grippers accept a maximum inflation pressure of 1.2 bar.
Our design office is at your disposal for the development of all custom-made grippers or food-grade coatings.
mm
Ø Deflated
(+4/-1)
Height wo fittings (+/-5)
Length
(+/- 10)
MGD12
12
89
1340
MGD14
14
92
1340
MGD16
16
94
1340
MGD18
18
98
1340
MGD20
20
100
1340
MGD22
22
102
1340
MGD25
25
107
1340
MGD30
30
110
1340
MGD35
35
129
1340
Advantages of the inflatable gripper
Fast implementation
Low vacuum thickness: 8mm
Abrasion resistant
FRENCH DESIGN AND MANUFACTURING
CONTACT
You want

contact us ?
You have a project or a problem to solve ? Fill out our contact form to send us your request. Our team of experts will get back to you as soon as possible.