Type : ARM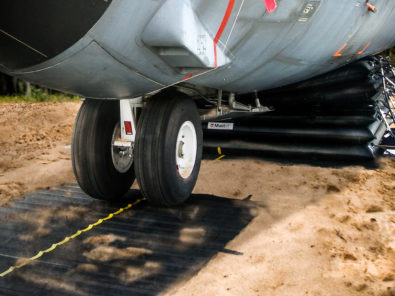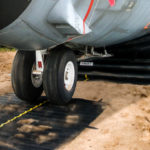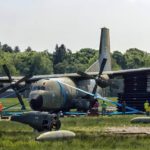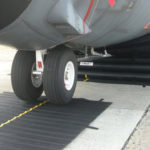 PRODUCTS
Aircraft recovery mat
What is aircraft recovery mat?
These are plates designed for aircrafts in case of emergency landings or other rescue operations to create a stable runway. It is important in the field of aeronautics. Aircrafts can land even if there is mud, snow or rain. Moreover, an aircraft recovery mat is very resistant thanks to the double-ply coated fabric construction reinforced with composite rods. Easy and quickly to be installed on the ground. An aircraft cannot get stuck thanks to these plates. A real benefit!
Why use aircraft recovery mat?
Mustmove® aircraft recovery mats are an innovative solution* dedicated to aircraft rescue operations regardless of the weather or ground conditions.
Musthane's patented aircraft recovery mats are used for the following operations:
Create a quick and temporary access road for emergency vehicles to facilitate their access to damaged aircraft
Be a traction mat to transport the plane and clear the airport runway which may be blocked following the accident.
Aircraft recovery mats have benefits:
Improvement of soil bearing capacity
Can compensate for the ruts created by the aircraft during its runway
These aircraft recovery equipment have excellent puncture resistance. Their non-slip surface and the high quality of their self-supporting properties make it easy to tow the aircraft off the runway.
Several mat sections can be easily connected to each other thanks to an innovative slotted joint system. This provides a continuous track without the need for additional anchors.
Their light weight (less than 10 kg/m2) and compactness (a 5 m roll can be rolled up to a diameter of less than 55 cm) allows for quick and easy deployment. Their mud and sand impermeable surface makes them very easy to remove after use.
In order to ensure a very good adherence of the aircraft recovery mat to the ground, it is fixed with revolutionary anchors patented by Musthane.
Aircraft recovery mats for airplanes do not require any particular maintenance. A simple cleaning with a water jet and they are ready to be rolled up for reuse.
* Patents granted
Use case aircraft recovery mat
Runway excursion of an aircraft
Access from service or emergency vehicles
Temporary cabs
Technical characteristics of aircraft recovery equipment
We manufacture the aircraft recovery mats in fabric coated with double-ply elastomer reinforced with composite rods.
Aircraft recovery mats for aircraft are resistant to all civil and military aircraft fuels (Avgas, Jet A1, F34…) as well as to hydraulic fluids and oils.
They are resistant to temperatures from -40°C to +90°C.
Their composition allows them to be rolled up and therefore to be very compact. For example, a 2.1m x 5m anti-slide mat has a folded dimension of Ø 0.55m x 2.1m.
This aircraft recovery equipment can be repaired on site.
The fixing anchors are light and their shape allows vehicles to run on them. In many situations the anchoring of the mats is not necessary. Indeed, the design of the mats allows the creation of bars to block and maintain the mat on soft floors.
| | | | |
| --- | --- | --- | --- |
| Length | Width | Net weight | Folded sizes |
| 5,0 m | 2,1 m | 95 kg | Ø 0,55 x 2,1m |
| 3,0 m | 3,4 m | 92 kg | Ø 0,45 x 3,4m |
| 3,0 m | 4,2 m | 114 kg | Ø 0,45 x 4,2m |
Advantages of aircraft recovery mats
Light (less than 10kg/m²)
Non-slip surface
Puncture resistant
Impermeable to mud and sand
Easy to recover after use
Excellent load-bearing capacity
On-site repair possible
Customizable with logo/colors
Simple and seamless connections
Easy to wear and deploy
Long service life
Easy cleaning with water jet
FRENCH DESIGN AND MANUFACTURING
CONTACT
You want

contact us ?
You have a project or a problem to solve ? Fill out our contact form to send us your request. Our team of experts will get back to you as soon as possible.