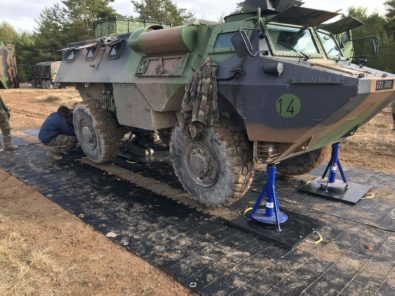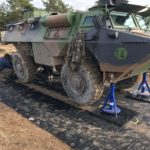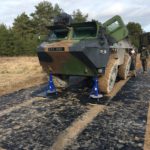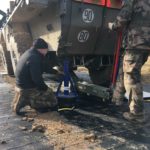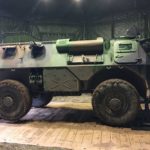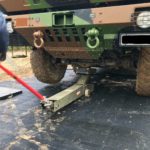 PRODUCTS
Maintenance mat for vehicle
Why use a vehicle maintenance mat?
We design this technical mat to create a floor suitable for carrying out vehicle maintenance operations., whether indoors or outdoors. It adapts to an irregular or muddy floor. It is compact because it can be rolled up and therefore easily transportable. The maintenance mat supports the weight and pressure of the material used by maintenance equipment.  We manufacture this mat with an elastomer that offers good resistance to abrasion.
In order to facilitate the handling and installation of the maintenance mat, we can equip it with sturdy carrying handles and straps.
Its light weight makes the technical mat easily transportable.
These maintenance mats are maintained in the ground thanks to our revolutionary anchors. Its installation is quick (a few minutes).
The mat is resistant to hydrocarbons and oils. Its surface is non-slip. It is easy to clean for reuse. After use, this maintenance mat does not clog up with mud or stones. Moreover, it does not require the use of a liner or felt to be laid on the ground before installation.
Case of use of the maintenance mats
Truck repair in hostile zone
Technical characteristics of the maintenance mats
We manufacture the maintenance mats in double-ply rubber fabrics with composite reinforcements. As a result, these mats support heavy loads: several tens of tons. They have several anchoring points on the ground. The surface of the mats is non-slip.
We deliver them in sections. We adapt the size of the sections  to your use.
Advantages
Quick installation
non-slip
compact
Reusable
Repairable
FRENCH DESIGN AND MANUFACTURING
CONTACT
You want

contact us ?
You have a project or a problem to solve ? Fill out our contact form to send us your request. Our team of experts will get back to you as soon as possible.