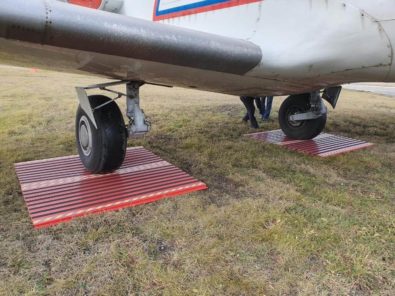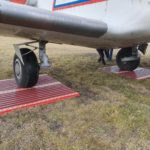 PRODUCTS
Aircraft recovery road mats
What is aircraft recovery road mats?
The ultra-resistant composite recovery road mats are designed to create passages for machines, trucks and aircraft to protect the ground, lawns and green spaces. They provide optimum protection when working on vulnerable or unstable ground.
Aircraft recovery road mats, or load distribution plates, are frequently used to create temporary runways or work platforms for aircraft access, and as tread plates on lawns.
Moreover, aircraft recovery road mats adapt to all types of ground, even the most unstable and uneven, and allow the load to be distributed evenly on the ground, ensuring stability and safety for operators and machines.
Why use aircraft recovery road mats?
Composite AIRCRAFT RECOVERY ROAD mats are an innovative solution dedicated to aircraft rescue operations or the installation of taxiways for aircraft.
Composite access mats can be connected together thanks to their unique profile requiring no tools or accessories.
They are reinforced with fiberglass and resistant to all civil and military aircraft fuels (Avgas, Jet A1, F34…), hydraulic fluids and oils.
They compensate the ruts made by an aircraft off the runway. It facilitates the towing of the aircraft on land thanks to their self-supporting, puncture-resistant and non-slip surface.
Case of use of composite aircraft access mat
Runway excursion of an aircraft
Aircraft maintenance
Technical characteristics composite aircraft recovery road mats
Composite road mats are made from polyester and fiberglass. They are provided with a non-slip surface.
These aircraft recovery mats are resistant to all civil and military aircraft fuels (Avgas, Jet A1, F34…), hydraulic fluids and oils.
They are resistant to temperatures from -40°C to +90°C.
| | | | |
| --- | --- | --- | --- |
| Length | Width | Thickness | Weight |
| 1,00 M | 2,00 M | 38 MM | 38 kg |
Advantages
Light
Non-slip surface
Puncture resistant
Impermeable to mud and sand
Easy to recover after use
Excellent load-bearing capacity
Customizable with logo/colors
Easy to wear and deploy
FRENCH DESIGN AND MANUFACTURING
CONTACT
You want

contact us ?
You have a project or a problem to solve ? Fill out our contact form to send us your request. Our team of experts will get back to you as soon as possible.