Type : PAW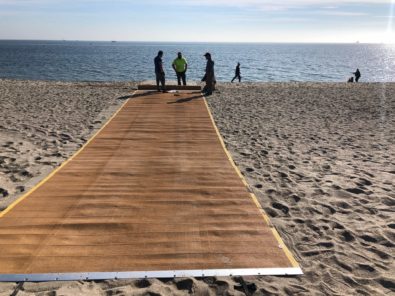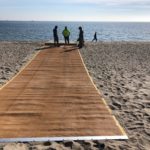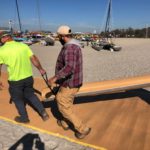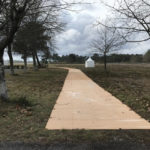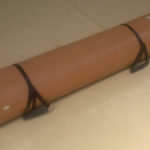 PRODUCTS
Access roads for pedestrians & vehicles
What is a beach access road?
An access road provides easy access for pedestrians, people with wheelchairs and vehicles. Often used for easier access to the beach, these mats are stable and durable over time. Moreover, it is a temporary solution which can be transportable. Musthane can customize your access road according to your image and your graphic charter. Access mats are easily stored because they are rollable.
Why use access roads for pedestrians & vehicles?
Musthane designs and manufactures more resistant and durable roll-up access roads for pedestrians & vehicles. These Mustmove® PAW temporary access roads* are customizable. They can be integrated into the environment (e.g. color) or receive specific markings or messages.
They are installed on soft floors. The temporary roadway roads improve and facilitate the movement of pedestrians, people with reduced mobility or vehicles. They are debogging mats.  Temporary access tracks provide a stable, rigid and secure surface. They are used to facilitate access to beaches, for example, or to serve as a path in a camp. They advantageously replace rigid plates and textile mats intended for the same use.
Roll-up access mats are made from a technical textile coated with double-ply elastomers that are stiffened with integrated extremely flat composite inserts. This flatness gives an unequalled smooth ride.
Patent granted
Use of roll up access mats
Access path to wheelchairs
Technical access track for vehicles on the beach
Technical characteristics of temporary access mats
We manufacture temporary access roads from double-ply rubber fabrics with flat composite reinforcements.
The choice of this type of composite reinforcement combines a load distribution with an easy and smooth movement.
We deliver Mustmove® PAW in widths of 1.50m, 1.95m or 2.20m and in standard lengths of 10m.
Non-contractual data for information purposes
Size
Weight
Folded sizes
1,5 m x 10 m
(4.9' x 32.8')
30 kg
(66 lbs)

Ø 0,25 m x 1,5 m

( Ø9.8'' x 3.3')
Advantages of temporary roadway mats
Flatness
Sand impermeable
Foldable, rollable and lightweight
Non-slip rubber surface
Extremely easy to remove and clean
Perforation resistant
Repairable
Longer service life
Pleasant for bare feet, and safe for wheelchairs and light vehicles.
Customizable dimensions and markings
More compact in storage
Specific manufacture on request
FRENCH DESIGN AND MANUFACTURING
CONTACT
You want

contact us ?
You have a project or a problem to solve ? Fill out our contact form to send us your request. Our team of experts will get back to you as soon as possible.