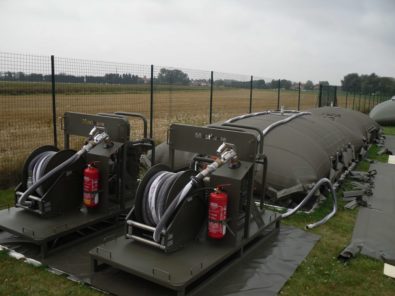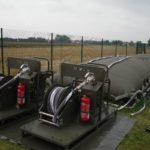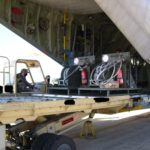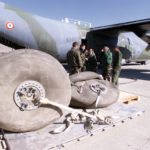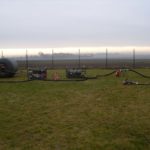 PRODUCTS
Forward area refueling equipment
Why use forward area refueling equipment -fare?
Musthane offers a fuel distribution solution to aircraft (FARE – Forward Area Refueling Equipment) for advanced operations in hostile terrain in the form of a kit. Each field fuel distribution kit allows the dispensing of fuel from a tanker truck or from other means of transport. Then the storage of approximately 8000 liters of aviation fuel can take place in the four flexible tanks. These flexible tanks are very robust, air-droppable, air transportable and can also be towed by a towing fork behind a vehicle.
This equipment can also be part of a FAARP (Forward Area Ammunition and Refueling Point) associated with our helicopter landing mats (Mustmove HELIPAD). In this case, the aim is to provide a mobile pad for refueling and rearming combat helicopters. Please note that Musthane does not supply any ammunition or armament.
The aviation fuel distribution depot includes in particular a high-performance motor pump and filtration unit of 200 lpm (12m3/h) or 400 lpm (24m3/h).
Main features of the FARE:
Maximum flow rate with filtration: 200 l/m (50 USG/min) or 400 l/min (100 USG/min)
Total weight of a FARE: approx. 1700kg (with 4 tanks of 1900L (500USG))
Overall dimensions: approx. 4400mm x 2150mm x 1300mm
Filtration: Complies with the civil or military aviation fuel filtration standard in effect or the standard required in your specifications.
Total storage capacity: 7600L (2000USG),
Modularity: the system can be combined with other modules (larger tanks, different pumps, etc.).
Use case of forward area refueling equipment- fare
Aviation fuel dispensing point for remote bases
Technical characteristics of forward area refueling equipment- fare
The complete FARE kit includes the following equipment:
Four (4) flexible tanks made of elastomer-reinforced fabric of 1900 liters, air transportable, rollable, heli-transportable and releasable:
Dimensions of each tank: diameter: approx. 135 cm, length: approx. 165 cm,
Capacity of each tank: approx. 1900L (500USG),
Working pressure of the tanks: 0.3 bar.
A motor pump unit on independent chassis with volumetric pump, flow rate 200L/min or 400L/min
A separator filter on independent chassis, accepting an aviation fuel filtration flow of 400L/min.
ISO1825 and EI 1529 compliant fuel hoses: 2x5m, 1x10m, 1x15m.
Hook and Gun: ISO 45 & MS24484 compatible under-wing hook, model Cla-Val 341GF-D3
Advantages
Complete kit designed for transport in a military cargo aircraft (type C130)
Modular fuel storage capacity
Kit can be used with other means of storing or dispensing aviation fuel
FRENCH DESIGN AND MANUFACTURING
CONTACT
You want

contact us ?
You have a project or a problem to solve ? Fill out our contact form to send us your request. Our team of experts will get back to you as soon as possible.