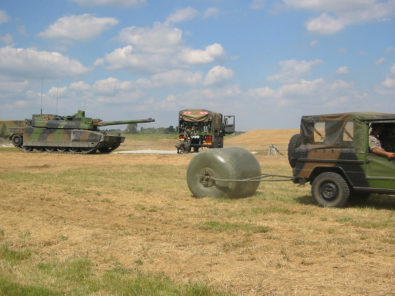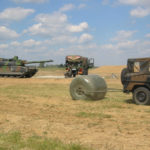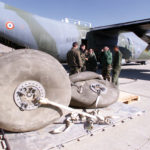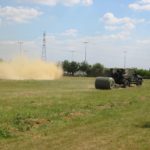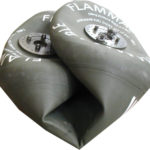 PRODUCTS
Towable fuel tank
Why use towable fuel tank?
These towable fuel tanks are at the same time :
air-transportable,
air droppable
tractable
They are used for logistical support during interventions in external operations. They are used to transport fuel in the hold of airplanes or helicopters, or even under slings. These flexible tanks are air-droppable from an aircraft up to 30 feet. They can be towed while driving behind a vehicle. They can also used to transport water or other liquids.
Air transportable flexible tanks are shaped like a drum.
They are emptied either by :
Case of use of towable fuel tank
Supplying water or fuel to remote or inaccessible locations
Basic life supply
Technical characteristics of air-droppable flexible tanks
We manufacture air droppable flexible tanks made of rubber-coated technical textiles. We choose the material according to the content (water, fuel…). The objective is to keep the characteristics of the stored liquids.
Towable tanks are resistant to the atmospheric and climatic conditions of the countries :
temperate,
tropical
equatorial
They are assembled by vulcanization in a homogeneous way in one operation (manufacturing process "seamless").
Standard capacities are 200l, 1000l and 1900l.
The towable flexible tanks have the following accessories:
Easily accessible filling and emptying port. It is in the center of one of the tank flanges. It is equipped with a quick coupling (DN 50) minimum.
Flow and pressure control device
Flanges for slinging, lashing and towing behind a vehicle
Slinging system for handling the filled tank
Tie-down system on an aircraft cargo hold or truck bed
Volume

USG / L

Ø

cm

Length

cm

Weight

kg

Pressure

bar

55 / 200
60
100
20
0,3
250 / 1000
110
130
85
0,3
500 / 1900
135
160
130
0,3
Non-contractual data for information purposes
Musthane is able to make flexible transport tanks according to your specifications.
Advantages of Towable fuel tank
Simple and quick to use
Robustness and mechanical resistance resistant to tearing and abrasion
Preservation of the characteristics of the fuel contained
Preservation of softness qualities between – 25 °C and + 70 °C
Towable behind a military vehicle
Transportable in an aircraft hold
Dropable from aircraft
High resistance to weather conditions
Resistant to the action of ultraviolet rays, humidity,
Resistant to weather and micro-organisms
Easy cleaning
Made to measure manufacturing
FRENCH DESIGN AND MANUFACTURING
CONTACT
You want

contact us ?
You have a project or a problem to solve ? Fill out our contact form to send us your request. Our team of experts will get back to you as soon as possible.