Type : T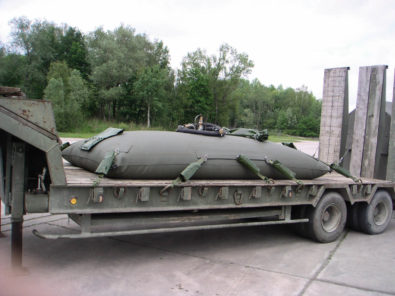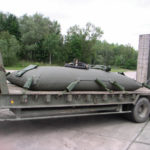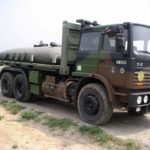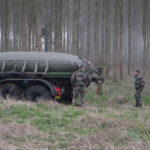 PRODUCTS
Mobile fuel tank
Why use mobile fuel tank?
Mobile fuel tank (Type T) is used for logistical support during interventions in external operations. They ensure the storage and transport of drinking water or fuel on the platform of a truck.  The flexible transport tank is installed on the platform of a VTL type truck. When empty, the mobile fuel bladder are foldable, compact and light, they are easy to transport and install. The emptying is done either by gravity or by using a motor pump unit.
Use case for mobile fuel tank
Supplying water or fuel to remote or inaccessible locations
Basic life supply
Technical characteristics of mobile fuel tanks
We manufacture mobile fuel tanks from rubber-coated reinforced textile. We choose the materials according to the stored liquid in order to guarantee the conservation of the chemical or biological aspects of the liquid. The resistance of the materials to corrosion has been tested in artificial atmosphere.
We assemble the transportable tanks by vulcanization in a homogeneous way in one operation ("seamless" process).
They are designed to adapt to the atmospheric and climatic conditions of temperate, tropical and equatorial countries.
Standard capacities are 3500 and 7000 l.
The mobile fuel tanks are equipped with the following accessories:
Tank filling and emptying base
Degassing device
Tensioner lashing device adaptable to the full or partially filled tank on truck bed (VTL) where the maximum speed when transporting tanks is 80 km/h
Handling handles
Musthane is able to make flexible transportable tanks according to your specifications.
Advantages
Simplicity and speed of use
Compact (foldable to 5% of the total volume)
High resistance to weather conditions
Rotproof ;
Tear and abrasion resistant;
Resistant to the action of ultraviolet rays.
Protection of the stored product
Safety in use
Easy cleaning
Simple and easy maintenance
Made to measure manufacturing
FRENCH DESIGN AND MANUFACTURING
CONTACT
You want

contact us ?
You have a project or a problem to solve ? Fill out our contact form to send us your request. Our team of experts will get back to you as soon as possible.