Type : MS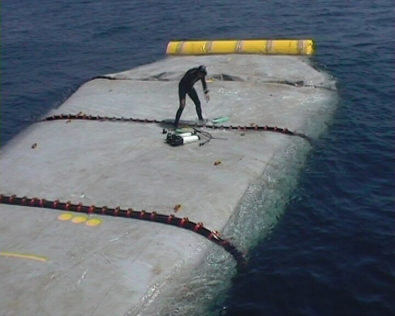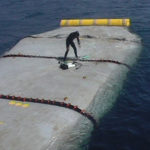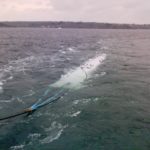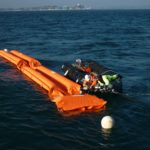 PRODUCTS
Floating storage tank
Why use floating storage tank?
During marine pollution, it is imperative to be able to recover the pockets of oil as quickly as possible to avoid pollution of the coastline.  Floating and towable storage tank type MS ensures the recovery of hydrocarbons. But it also ensure their storage while waiting for their contents to be treated. These floatable fuel tanks are also used for transport by traction to the port.
The floating oil storage are :
flexible,
foldable,
can be rolled up on reels,
light and resistant.
They are therefore easy to transport and use.
They are used for the long-term storage of fuel or polluted liquids at sea.
Use case of floating storage tanks
After containing the oil slicks with oil booms, specialized vessels can store the pollutants in their internal bunkers. However, to increase their efficiency by increasing their storage capacity, the use of floating storage tank is the ideal solution. The tanks are filled and remain floating while a BSAD (Bâtiment Soutien Assistance Dépollution) or tug tows them to the port for treatment or storage on a barge. The same tug can tow several floating tanks.
The towable floating tanks are also used to recover fuel from damaged boats in order to avoid or limit pollution.
Floating shuttles are a solution for the storage of other liquids such as drinking water to bring it to disaster sites.
Technical characteristics of floating storage tanks
We manufacture the floating storage tanks made of elastomer coated fabric specifically chosen according to your use.
The coated fabrics are specially developed for applications involving the transport of polluting liquids at sea. They are therefore resistant to UV, hydrolysis, hydrocarbons and corrosive products.
The floating oil storage have a strong and light tensile element, which ensures a distribution of the forces and lifting rings. They can withstand empty traction up to 10 knots and full traction up to 4 knots. They can withstand heavy seas.
Standard capacities are from 7 to 100m 3.
We equip these floating tanks with 2 accessories of filling/emptying 4".
Musthane is able to make the floating tanks to measure according to your specifications.
Advantages
Easy to use
Quick deployment: the towable floating tanks can be rolled up on a reel.
Compact: the thinness of their material allows them to be rolled or folded into a box.
Good seaworthiness thanks to its narrow profile
Easy cleaning thanks to the large opening of the tank and the possibility to integrate "disposable" bags.
Resistant to maritime and chemical conditions. We choose the coated fabrics used for their resistance to the marine environment, hydrolysis, hydrocarbons, fats and chemicals, detergents, sunlight and atmospheric agents, perforation and abrasion.
Multifunction: they ensure the transport and storage of hydrocarbons, gasoline, drinking water or various liquids.
FRENCH DESIGN AND MANUFACTURING
CONTACT
You want

contact us ?
You have a project or a problem to solve ? Fill out our contact form to send us your request. Our team of experts will get back to you as soon as possible.