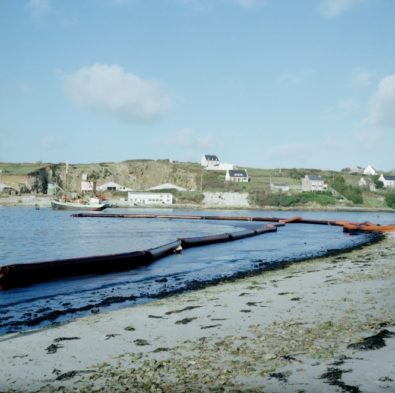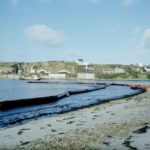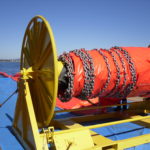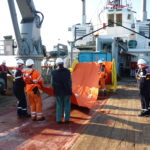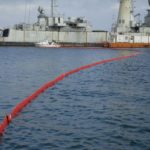 Why use an oil boom?
We design oil booms  to combat pollution from crude or refined petroleum products accidentally spilled on the high seas. During pollution on the high seas, we use oil spills booms to :
The containment of hydrocarbons while waiting for them to be trawled, pumped into a recovery shuttle for example
To the protection of a sensitive area (nature reserves, ports…)
The detour of pollutants to an area where they will be more easily collected.
Oil booms consist of :
A flotation element to contain the pollutant
A submerged skirt to prevent the pollutant from passing under the dam. It can reach a height of 3m
A longitudinal tensioning element (chain or cable) to resist the forces of winds, currents, etc.
A ballast
We manufacture them in modules of 15 to 25 meters connected to each other and interchangeably removable.
The oil containment booms have permanent inflatable floats.
We deliver the floating oil booms either on a hydraulic drum or in containers. They are towable at sea.
Use case of oil booms
Untimely or illegal deballasting of vessels
Sinking of oil tankers
Technical characteristics of oil booms
We manufactureoil booms from reinforced technical textiles coated with Neoprene-Hypalon (chlorosulfonated polyethylene (CSM) and/or polychlroroprene) or nitrile.
They consist of independent inflatable floats assembled in a mechanical way. They have a skirt in the lower part designed to retain pollutants and a ballast chain that ensures the stability of the floating oil boom.
The oil boom floats may be inflated using thermal or electric inflators.
We store the oil containment booms rolled up on reels with hydraulic reels which facilitates their implementation. These reels are positioned on the vessels and are also used for their storage on land.
Advantages of oil spills booms
Simple and quick implementation
Robust, high resistance to perforation and abrasion
Resistant to solar radiation and atmospheric agents
Easy to clean
Compact
Excellent resistance to hydrocarbons and fats
We design and manufacture specific and customized oil spills booms resistant to very aggressive chemicals (concentrated acids / bases…).
FRENCH DESIGN AND MANUFACTURING
CONTACT
You want

contact us ?
You have a project or a problem to solve ? Fill out our contact form to send us your request. Our team of experts will get back to you as soon as possible.