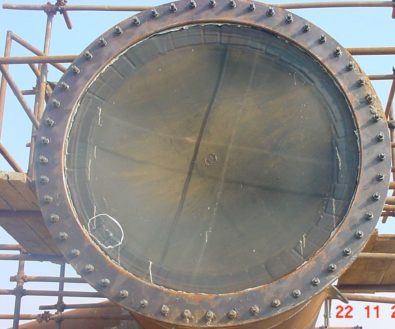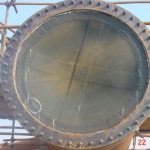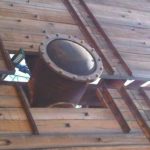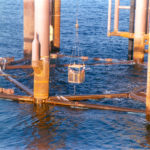 PRODUCTS
Diaphragms closures
Why use a diaphragm closure?
Diaphragms closures are the accepted method of efficiently sealing platform legs and skirt sleeves to provide buoyancy.
We manufacture diaphragms closures from reinforced rubber that allow quickly and easily pierced by the pile.
To ensure quality and reliability, we test each diaphragm to 1,5 times hydrostatic pressure.
Sealing top and bottom of skirt sleeves
Jacket skirt sleeves become buoyant when sealed with diaphragms.
These diaphragms are easily pierced with the skirt pile during driving operations.
Sealing piles and conductors
Pre-stabbed piles and conductors become buoyancy chambers when sealed with diaphragms.
A 5 psi vacuum is sufficient to hold the seal in place against the end of the pile or conductor until the jacket is launched into the water.
After launch, the seal is held in place by hydrostatic pressure.
Sizes : width from 40 mm to 3000 mm, length from 40 mm to 7000 mm.
Sealing J-Tubes and buoyancy tanks and conductors
Sealed eyebolts can be installed through the diaphragms for attaching pull-in cables and diaphragm cutters.
Case of use of diaphragms closures
Maintain buoyancy of the offshore jacket
TECHNICAL CHARACTERISTICS OF DIAPHRAGMS CLOSURES
The diaphragms closures consists of two parts:
Two steel flanges
One reinforced rubber plate
Rubber compounds for the rubber products are able to withstand the extreme marine environment. We manufacture diaphragm closures with reinforced rubber and we test them to a pressure equal to 1.5 times hydrostatic pressure due to Water Depth.
We choice our components accordingly your requirements
Advantages
Easy and quick set up
High resistant materials
Custom made
No maintenance
FRENCH DESIGN AND MANUFACTURING
CONTACT
You want

contact us ?
You have a project or a problem to solve ? Fill out our contact form to send us your request. Our team of experts will get back to you as soon as possible.