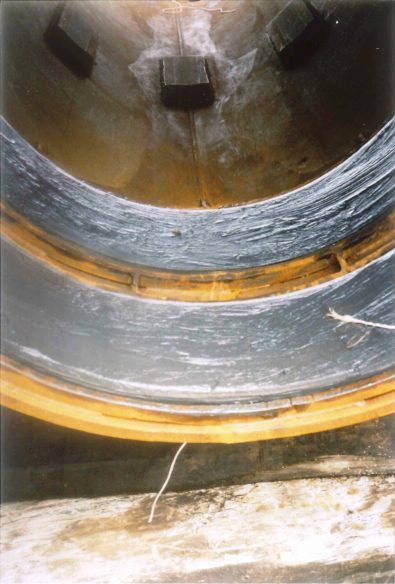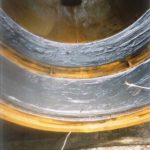 Why use grout packers ?
Grout packers provide a fast and reliable inflatable seal for grouting of the jacket/pile annulus.
Time is major cost factor in installing a jacket. Therefore, a notable advantage of using inflatable packers is that setting or resetting a grout plug is not necessary.
The strong, textile reinforced packers allow economical, one-stage grouting, regardless of water depth or grout weight.
After the pile is driven, packers can be remotely inflated by gas or liquid to seal the annulus for grouting. Quick indication of the seal is made with pressure gauges located at the surface.
In addition to standard grouting packers, we manufacture special packers  upon request.
Top and bottom skirt sleeves
Inflatable grouting packers, mounted on top and bottom of skirt sleeves, insure the highest quality grouting for this critical connection. This arrangement provides for grout returns and sample monitoring at the work deck and eliminates the need for divers or underwater grout monitoring equipment.
In addition, the sleeve can still be grouted in the event of damage to either packer inflation system.
Case of use of grout packer
Cement grouting
Seal between the jacket and the pile
Technical characteristics of grout packers
High strength textile reinforced packers.
Regular guide shims, located directly above the packer, protect the packer during pile driving and provide adequate centering for sealing.
Complete quality control including material traceability, radiographic weld inspection, and pressure testing.
Toroidal construction of the pressure chamber eliminates sensitive rubber to metal bands.
Protected inflation connection.The element can easily be installed in a leg or sleeve at the fabrication yard and can be replaced without removing the packer cylinder from the structure.
With a standard size simulated pile section centred inside, the packer can be tested to full test pressure even after it is installed on the jacket.
Advantages of grout packer
Easy and quick set up
High resistant materials
Custom made
FRENCH DESIGN AND MANUFACTURING
CONTACT
You want

contact us ?
You have a project or a problem to solve ? Fill out our contact form to send us your request. Our team of experts will get back to you as soon as possible.