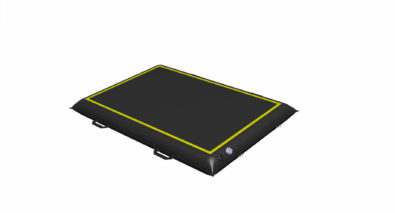 PRODUCTS
Floating rescue track
Why use floating rescue track?
The rescue track is an inflatable platform intended for rescue teams. It offers them a stable, perfectly flat and firm surface on aquatic, muddy or marshy areas to access the injured or to a particular area. We manufacture it in a width of 1.37m over a standard length of 2m (specific widths and lengths can be made on request). The rescue track can be interconnected either lengthwise or crosswise to increase their operational surfaces.
Compact and light, they are easily transported and deployed in difficult areas.
Case of use of floating rescue track
Rescue of wounded in hostile aquatic areas
Temporary pontoon
Technical characteristics of floating rescue track
We make them out of rubber coated fabric.
Equipment included:
Degassing vent
Inflation with quick coupling.
4 carrying handles
Antislip surface
Visible color band
Reference 
Length 

(m) 

Width  (m) 
Height  (mm) 
Inflation  pressure  (Bar) 
Air 
requirement  (Liter) 
Approx. Weight 

(kg) 

ENGCHMB13001
2,00
1,37
200  mm
0,5 bar
+/-950
14kg
Advantages of floating rescue tracks
Easy & quick st up
Stable
Light
Low maintenance required
High resistance to climatic conditions (-30 ° C / + 70 ° C)
High resistance to physical aggression (cuts, stones, etc.)
FRENCH DESIGN AND MANUFACTURING
CONTACT
You want

contact us ?
You have a project or a problem to solve ? Fill out our contact form to send us your request. Our team of experts will get back to you as soon as possible.