Type : VHP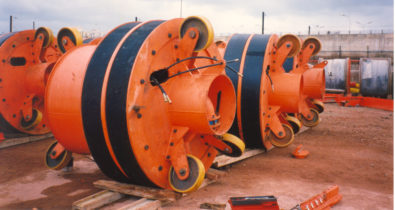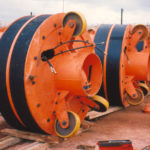 PRODUCTS
High pressure pipe plug
Why use very high pressure pipe plugs?
The very high pressure pipe plugs (VHP) are custom designed to withstand back pressures over 20 bars.
The high pressure plug consist of a metal structure equipped with O-ring inflatable jacks and rubber seals (friction ring). The rubber seals offer very good adhesion to the pipe and withstand the forces due to pushing or pulling. They also protect the air jacks from abrasion or punching.
Pneumatic inflatable jacks accept inflation pressures up to 400 bar/cm². In case of delicate operations, the number of air jack is doubled to increase safety.
The great advantage of this equipment is the safety for the operators. Indeed, the quantity of air or water used to inflate the inflatable air jack and put under high pressure, is much less than that used for a pipe plug made only of rubber.
Another advantage is its compactness. An all-rubber inflatable pipe plug has a length of about 1.5 times its diameter in general; for the example shown in the picture, a length of 3.6 m for a 2.4 m pipe. Whereas the VHP high pressure plugs that we have manufactured with a double safety (2 cylinders powered separately), is only 1.6m long.
And last but not least, the VHP high pressure stopper is easy to handle because we can equip it with wheels that facilitate its handling and installation.
case of use of high pressure plug
Blocking large diameter pipes with a strong back pressure such as a 2400mm diameter outfall with a delta P of 3 bar, i.e. 540 tons to be retained.
Lifting heavy loads by using them as a means of gripping.
Testing the tightness of pipes.
Float hollow submerged structures by plugging water-fillable pipes.
Technical characteristics of the high pressure plug
We manufacture high pressure pipe plug from elastomer-coated reinforced fabric; this gives them high mechanical strength. We vulcanize them in pressure moulds to have a homogeneous product.
The friction rings are made of elastomer.
We make the metal structure according to your specifications. It is in painted steel most of the time.
Our team of engineers is at your disposal to study any request.
Advantages of High pressure pipe plugs
High resistance to back pressure even on large diameters
Compactness
High operational safety
Fast inflation
Easy to use and set up
Made to measure manufacturing
FRENCH DESIGN AND MANUFACTURING
CONTACT
You want

contact us ?
You have a project or a problem to solve ? Fill out our contact form to send us your request. Our team of experts will get back to you as soon as possible.