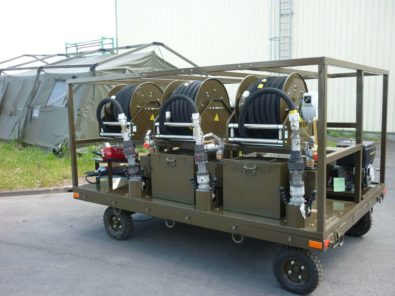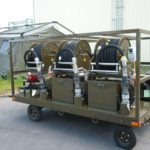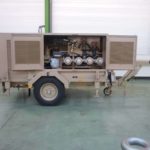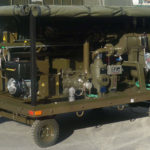 PRODUCTS
Aircraft refueler on trailer
Why use an aircraft refueler on trailer?
The aircraft refueler on trailer with 3 output lines is designed to refuel airplanes and helicopters at a total flow rate of 400LPM.
This refueling is done by means of a :
Pistol (gravity refueling with a maximum flow of 12m3h)
Hooker 2¨1/2 (pressurized refueling with a maximum flow of 12m3h) .
This refueling unit offers the possibility to refuel up to 3 aircraft simultaneously either by :
1 single line (1 x 12m3/h),
2 lines (2 x 12m3/h) or
3 lines (3x8m3/h).
The aircraft refueler is mounted on a trailer for airport use. All the equipment of the fueling unit complies with the aircraft fuel distribution standards in force in Europe. They can also be modified according to your specifications.
Case of use of aircraft refueler
Mobile bunker on airports thanks to its trailer.
Technical characteristics of aircraft refueler
The aircraft refueler is delivered on an airport trailer :
Dimensions: 3m x 2m x 1.86m
Weight : 1500 kg
Air-cooled Diesel Engine
Volumetric pump flow 24m3/h with 1 and 4mm prefilter
Aviation Filter EI latest edition
2 automatic hose reels with 20m of DN40 hose (ISO 1825 compliant)
1 line with ISO 45 hanger – 2'1/2′ for under-wing fuelling
1 line with helicopter refueling gun (ZVF 40.1)
Safety accessories and equipotential bonding
1 mechanical volumetric meter with degasing system
Toolbox
Spare parts for first level maintenance
Advantages
Refueling of 3 planes or helicopters simultaneously.
Modification of the flow rate possible in special order and custom-made.
FRENCH DESIGN AND MANUFACTURING
CONTACT
You want

contact us ?
You have a project or a problem to solve ? Fill out our contact form to send us your request. Our team of experts will get back to you as soon as possible.