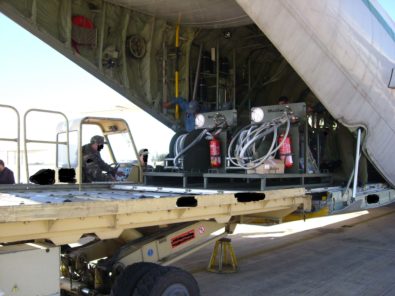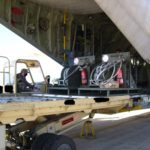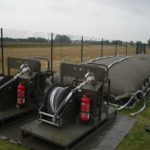 PRODUCTS
Aerial Bulk Fuel Delivery System
Why use an Aerial Bulk Fuel Delivery System ?
The Aerial Bulk Fuel Delivery System (ABFDS) is used for the transport and delivery of fuel in cargo military aircrafts such as C130 or on trucks and trailers.
It is composed of two fuel bladders and two refueling pumps & filters.
Case of use of aerial bulk fuel delivery system
transport fuel in hostile areas
refuel isolated areas
TECHNICAL CHARACTERISTICS OF AN AERIAL BULK FUEL DELIVERY SYSTEM
Composition of the ABFDS :
Two fuel bladders of 11250 liters each (±10%): total capacity of 22.500 liters (approx. 6000 USG or approx. 5000 IG)
One aircraft refueling set composed of:

Two refueling pumps and API standard filtration of 200 lpm (positive displacement pump ensuring a delivery of 200 lpm at 10 m with a pressure of 2.5 bars at output)
Two Diesel engine driven with the jet fuel
Two reels with 10 ml hose for fuel delivery
Two flexible hoses of 6 meters to connect the fuel bladders to the fuel pumps.
Two delivery nozzles (type ZVF 40)

One set of safety transport means including:

On set of aeronautic pallets and couplings for fixing safely the aerial fuel bulk system inside the aircraft.
Fuel bladders safety straps and ground protection cover
Degassing system and connection to the pressure regulation system of the aircraft for mitigating the presence of gas inside the aircraft
Two fire extinguishers

Use and maintenance instructions of the equipment in English
Our design office is at your disposal for any tailor-made jacking system study
Advantages
Very compact kit when packed for transportation
Transport of bulk fuel inside aircrafts (C130, C160…)
Modular system : size of the fuel bladders can be adapted
Positive displacement pumping system with a higher performance
FRENCH DESIGN AND MANUFACTURING
CONTACT
You want

contact us ?
You have a project or a problem to solve ? Fill out our contact form to send us your request. Our team of experts will get back to you as soon as possible.