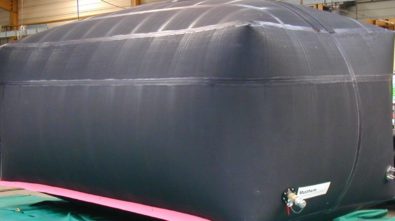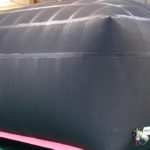 PRODUCTS
Gas holder balloon
Why use a gas holder balloon?
Gas holder balloon are flexible tanks intended for the storage of gas at ambient temperature.
They are suitable for the storage of common gases such as: hydrogen, oxygen, nitrogen, helium, carbon dioxide, dry ammonia, nitrous oxide or gaseous aliphatic carbides.
Contact with traces of liquids such as aqueous solutions of NaCl or CaCl2 or heavy polyalcohols such as ethylene glycol (antifreeze) is not a problem for our gasometers thanks to their specific material.
Our range consists of 3 models of gas storage balloon :
RLO type gasometer operating without ballast
RLN type gasometer operating with light ballast
The overpressure in the buffer volume is kept at a very low value by a ballast of a few hundred kg. It is insufficient to ensure distribution. The ballast ensures that the pouch can be folded up properly.
RLC type gasometer operating with heavy ballast
The pressure is maintained in the buffer volume by a ballast of up to several tons. It is used to ensure the distribution.
Use case of gasometers
Nitrogen treatment as part of a chemical manufacturing process.
Buffer storage of gas
Biogas storage
Technical characteristics of gas holder balloon
We manufacture our gasometer from fabrics coated with high-strength elastomers. These materials are characterized by their mechanical resistance, their specific gas and water vapor tightness, their resistance to ageing (ultra-violet), their resistance to ozone and common aggressive chemical agents.
Avantages of gasometers
RLO type gas holder balloon operating without ballast
Advantages:
Minimum installation cost
Special precautions for use:
Requires a gas recovery booster.
Possible movements of the ladle in presence of draughts.
RLN type gas holder balloon operating with light ballast.
Advantages:
Lightweight, low-cost gasometer support gantry and ballast.
Possibility of mounting in suspension in the frames.
Good measuring accuracy, especially at the end of filling.
Particular precautions of use:
Need for a gas recovery booster.
Relative measuring accuracy under low volume.
RLC type gas holder balloon operating with heavy ballast.
Advantages:
No recovery booster.
Minimal monitoring and maintenance.
Particular precautions of use:
Installation cost (reinforced support gantry and heavy ballast).
Necessity of floor mounting.
Limitation:
Installation not recommended above 120 m3
FRENCH DESIGN AND MANUFACTURING
CONTACT
You want

contact us ?
You have a project or a problem to solve ? Fill out our contact form to send us your request. Our team of experts will get back to you as soon as possible.