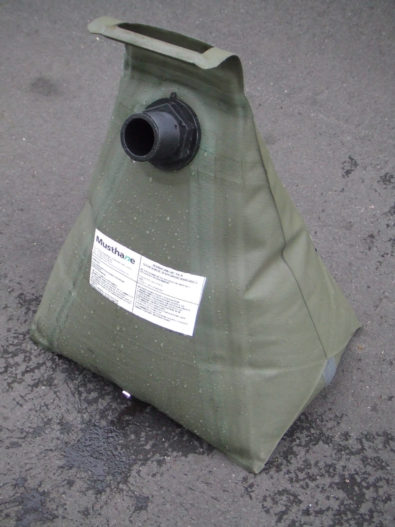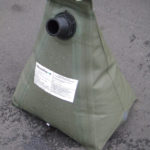 Why use a fuel jerrycan?
The flexible and foldable fuel jerrycans can store 25 liters of gasoline (any type of NATO fuel).
The collapsible jerry cans are used among others as additional flexible tank by the armed forces (on board of inflatable boats…).
They have a bellows-shaped design providing a stable base when filled.
They are available with specific accessories to connect them directly to boat engines.
Fuel jerricans are used by the military during outdoor operations or by adventurers who want to increase the extent of their autonomy.
Use cases of fuel jerrycan
Additional tank for inflatable boats for Special Forces
Additional reserve used during rally-raids
Technical characteristics of the fuel jerricans
We manufacture the fuel jerricans out of high-strength coated fabric and homogeneously vulcanized in a single operation ("seamless" manufacturing).
They have two handles at each end of the tank for easy filling and emptying. They can be used in climatic conditions from -30°C to +70°C. The fuel jerry cans can withstand drops of up to 8.5 meters.
Approximate dimensions of the collapsible jerry can 25 liters :
Base: 220 mm x 400 mm
Filled height: 660 mm
They have a drain plug to which a spout can be fitted.
Advantages
Simple and quick installation
Compact and foldable
No condensation in the tank
High resistance to weather conditions
No contamination by rust or metal debris
No evaporation of the stored liquid
Protection of the stored product
Custom fabrication possible for specific shapes or capacities
FRENCH DESIGN AND MANUFACTURING
CONTACT
You want

contact us ?
You have a project or a problem to solve ? Fill out our contact form to send us your request. Our team of experts will get back to you as soon as possible.