Type : FFC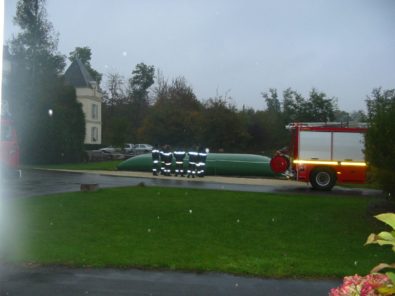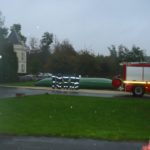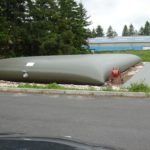 PRODUCTS
Fire water storage tank
Why use fire water storage tank?
Fire water storage tanks are used as a water reserve in the framework of fire defense.  They comply with the NF S62-250 standard. Fire water storage tank is foldable, compact and light. TThey are easy to transport and install.
We use the fire water tanks in forests, on industrial sites at risk or in rural communities. We use them for fire protection in a more general way.
The fire water tank is the ideal solution for temporary or emergency water storage in areas that are difficult to access.
Reliable and economical solution
Simple and quick installation. They are foldable, compact and therefore can be easily moved to hard-to-reach areas.
Flexibility of use. They work either with direct above-ground suction or via a post or a suction mouth thanks to a hole on the bottom.
Technical characteristics of fire water tank
Fire water tank are made of plastomer-coated fabric assembled by high-frequency welding. The textile support ensures the mechanical resistance. The coating and the manufacturing technique confer the chemical properties and the watertightness.
They are equipped with a ¼ tower valve equipped with a DN100 fire connection and a degassing base equipped with a 120mm screw cap. It is possible to provide a frost-free connection under the tank.
The accessories of the direct suction fire water tanks are :
A filling/emptying base equipped with a valve ¼ of tower DN100 and a symmetrical half-coupling type AR DN 100 equipped with a plug, in accordance with the NF S 61-701 standard, per 120 m3.
An inspection hatch equipped with a 20 mm screw-on cap placed in the center of the flexible tank.
An Overflow
The accessories of the fire water tank with bottom suction are :
A tap connecting the tank to its suction device. This tapping must be adapted on the buried pipe of at least one DN100.
An inspection hatch equipped with a 120 mm screw cap placed in the center of the flexible tank.
An Overflow
The capacities of the fire protection water storage tanks go up to 500m3.
We recommend that you read the precautions for use before using flexible tanks
Advantages
Foldable and lightweight
Simple and quick installation
Compact (foldable to 5% of the total volume)
Highly resistant to climatic conditions between -30°C and +70°C
No evaporation of the stored liquid
Protection of the stored product
Made to measure manufacturing
FRENCH DESIGN AND MANUFACTURING
CONTACT
You want

contact us ?
You have a project or a problem to solve ? Fill out our contact form to send us your request. Our team of experts will get back to you as soon as possible.