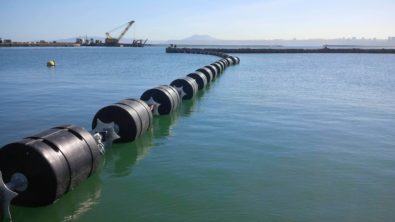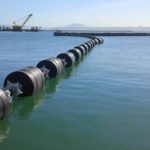 PRODUCTS
Floating barriers
Why use floating barriers?
We design our floating barriers to stop and discourage intrusions into marine protected areas.
Our marine security barriers are an integral part of the Port Facility Security Assessment (PFSA). They delimit an area at sea that is closed to the movement of certain vessels. They can be a bulwark against sneak attacks from the sea by commando boats.
Case of use of floating security barriers
Military port protection
Protection of sensitive coastal areas…
Technical characteristics of marine security barriers
Each floating barrier base section consists of :
A hardened steel shaft,
2 floats for reliability and durability.
The floats are connected to each other by shackles and swivels to avoid any bending and torsional stress during use. This also allows an easy connection to obtain the necessary length.
The assembly is dimensioned to withstand a tensile force in excess of 40 tons.
Musthane offers to design and manufacture your floating security barrier on demand and according to your specifications.
Advantages of Floating barriers
Ease of implementation
Service life
Low maintenance
FRENCH DESIGN AND MANUFACTURING
CONTACT
You want

contact us ?
You have a project or a problem to solve ? Fill out our contact form to send us your request. Our team of experts will get back to you as soon as possible.