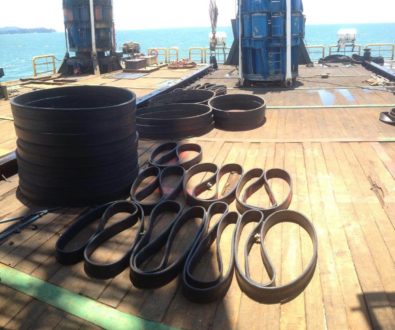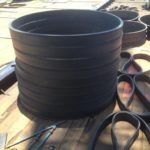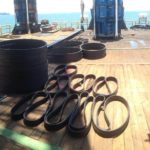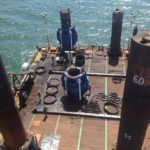 Why use jacks for jack up rig?
JAck up rig (Delong system) is a jack up barge mainly used in low depth of water (about 50 m). It is the best solution when it is necessary to lift heavy loads quickly and efficiently.
Jack up rig with DeLong system use a mixed of pneumatic grippers and hydraulic lifting cylinders.
In order to obtain a strong and reliable squeeze, Jack up rig system is composed of two elements:
a gripper tube which is an inflatable toric jack made in fabrics coated with rubber
a gripper slug which is a ring in rubber
The Gripper tubes works with a pressure between 25 and 29 bar. When they are inflated, they uniformly push on the gripper slugs which secure the squeeze on the jack's leg. The aim of the gripper slug is to avoid the shearing work of the gripper tube and thus its bursting. As soon as the leg is locked, hydraulic cylinder lift up or down the barge.
Case of use of jack up rig
Construction of a suspension bridge that required jacking twice a day with the tides
Technical characteristics of jack up rig system
Gripper tubes(inflatable pneumatic cylinder) :
In order to salve this puncture of the inflatable jacks, we have engineered reinforced gripper tubes and a gripper slug with exceptional characteristics.
Our gripper tubes for jack up rig system are made in fabrics coated with rubber. They are manufactured by filament winding and vulcanized in mould under pressure. Thanks to the raw material use when it deflates, the gripper tubes act as spring and come back quickly at its flat position.
In the time, this inflatable jack remains constant; it will not lengthen in case of durable storage. Moreover, the inside material of the gripper tube will not be damaged by oil which can be in the compressed air.
Gripper slugs
Long research in collaboration with our customer, allows us to design a new slug. We make it from an elastomer composite material.
These exceptional characteristics are:
the slug has an excellent memory and so comes back very quickly to its initial position when gripper tubes deflate.
the abrasion and shearing resistance is very high.
Our gripper slugs for jack up rig system has a rectangular profile shape so without lip. These lips have just an interest in case of using gripper tubes just in rubber, in order to try to avoid to pinch the tubes. Our gripper tubes are made of reinforced fabrics coated
The whole improvements concerning the gripper tubes and slugs procure an excellent product, reliable and with an exceptional lifetime.
Fittings
The last improvement regards the fittings: gripper spuds. We have integrated an insert in the rubber of the gripper tube, inflatable fitting screws in it. It avoids plunger puncture and ovalization problem that happens with metal base valve.
Our fittings are in stainless steel 316L.
Our design office is at your disposal for any tailor-made jacking system study
Advantages of pneumatic jack up system
Gripper tubes compact when empty.
Homogeneous thrust.
High abrasion and shearing resistance
High stroke
Stainless steel 316L fittings
No maintenance.
Custom made
FRENCH DESIGN AND MANUFACTURING
CONTACT
You want

contact us ?
You have a project or a problem to solve ? Fill out our contact form to send us your request. Our team of experts will get back to you as soon as possible.